Posted on
By Gearhead Outfitters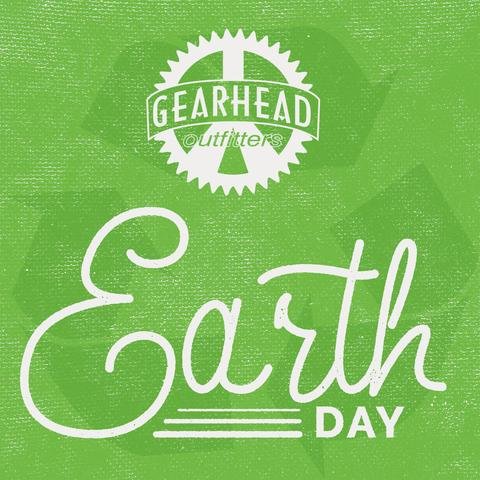 We at Gearhead love the outdoors! Part of our mission is to help our customers live active, fulfilling lives by providing quality outdoor-inspired products. We also want to keep our footprint on the environment small and support brands that do the same.
We want to share all that love with you and keep you outside, too. So, to celebrate Earth Day, we're sharing our favorite eco-friendly products with you! Organic, fair-trade, eco-friendly ... these brands know how to give back, conserve and sustain. Remember, all of these brands are available at Gearhead Outfitters!
Everyone loves Chaco, and for good reason. Not only do these sandals come in plenty of colors and styles to suit anyone, they are perfect for almost any outdoor adventure. Super comfortable and durable, their Eco-tread line of outsoles are made of 25% recycled rubber. They also boast a ReChaco program for their classic Z's – Z/1, Z/2, ZX1, ZX2 and ZX3. If you've damaged, worn out, torn up or otherwise rendered your Chacos unusable, ReChaco can repair, reweb and resole many to like-new condition, saving the environment tons of discarded rubber and fabrics. "Reduce, Reuse & ReChaco." This sandal gets our vote for environmental worthiness!
If you're looking for a simple, reusable water bottle, this product may not be for you. But if you're looking for a canteen that can keep your beverages hot on the ski slopes or cool at the beach, we recommend the Hydroflask. Made of BPA-free materials, food-grade stainless steel, in a variety of colors and styles, this insulated container is perfect for any day, any drink, anywhere. Hydroflask is also backed by a lifetime warranty. Reusable, saving the environment plastic waste, and with unbeatable quality, the Hydroflask needs to be holding your next drink of choice.
A brand close to home and our hearts is Fayettechill Clothing Co. A relaxed, outdoor lifestyle brand headquartered in Fayetteville, Ark., Fayettechill is taking chill to the next level for their customers. However, they are anything but chill when it comes to their corporate responsibility. Partnering with institutions with a similar goal, Fayettechill is equipping their customers with quality products that have minimal impact on our environment. Their "Made in the USA" campaign is making our economy, community and local resources a number one priority. They can now boast 93% of their cotton products are made in the USA. Focused on their region's biggest asset, The Ozark Mountains, Fayettechill Clothing Co. is our choice for local, home-grown environmental advocate.
"We are collaborating with the most active and influential non-profit organizations so that we can help support their missions to develop, maintain, and protect the trails, climbing routes, and rivers that serve at the foundation of this region's booming outdoor community."
We love these brands so much, we couldn't just pick one!
A brand whose customers range from yogis to mountain climbers, Prana isn't just environmentally-conscious or eco-friendly. They are an environmental activist all their own. "A brand should give much more than it takes from the world" is a motto they live by. Understanding their footprint and impact on the environment, Prana uses organic cotton, hemp, recycled polyester and Tencel® to replace traditionally used textiles. They love nature and people and want to keep both healthy and sustained.
Patagonia is another company whose entire mission is centered around what they can give instead of what they take. "Build the best product, cause no unnecessary harm, use business to inspire and implement solutions to the environmental crisis" is what drives their business. There's so much to say about them, we can only hit the highlights. One percent of all sales at Patagonia is given back to environmental organizations around the globe to promote safe, fair, legal and humane conditions in all of their locations. They also have a program similar to Chacos ReChaco. The Worn Wear program is Patagonia's customer-driven, tangible commitment to quality to ensure what you buy lasts longer and can be repaired to limit purchasing and waste. You can also be a part of tracking their environmental footprint through The Footprint Chronicles®. The Footprint Chronicles, "examines Patagonia's life and habits as a company. The goal is to use transparency about our supply chain to help us reduce our adverse social and environmental impacts – and on an industrial scale." With so much to love about these brands, they are our environmental brand heroes!