Posted on
By Gearhead Outfitters brand ambassador, KoDee Browning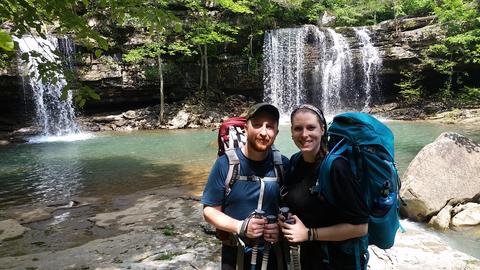 As a homegrown Colorado girl, you can imagine my lack of enthusiasm when my husband and I decided to move to Arkansas. My free time was always spent outdoors, whether hiking, kayaking, fishing or snowboarding. I could never get enough time outside, and Colorado constantly provided the adventure I loved. Ironically, the Arkansas River runs through the town I grew up in, and I spent my childhood swimming those waters.
When we made the move, I'm being honest when I say it took me a while to see Arkansas for what it truly is. My mind was stuck in the stereotype of "hillbilly" Arkansas, and I found myself surprised to find the cities full of slickers who had no interest in getting dirt on their shoes.
The first time Arkansas took my breath away I was standing on Jim's Bluff off of the Goat Trail. A 550 foot drop was before me, and I couldn't believe I had been in Arkansas for a year and never heard of this place. But I was more shocked when the locals had no idea about it.
Since that moment on Jim's Bluff, three years have passed and Arkansas has taken my breath away several more times. I am driven by a waterfall hunt the Ozark's provide. Hidden around every hill and down every valley there are beautiful waterfalls tucked away from the rest of the world, some easier to find than others, but all worth the jaunt. Lost Valley, Glory Hole and Eye of the Needle are my current favorites! The other wonderful part is that they are almost all located fairly close to each other. Wake up early, and spend the whole day chasing waterfalls ... you won't regret it.
Arkansas isn't Colorado, I still miss those purple mountains, but Colorado isn't Arkansas either. Both are absolutely stunning, yet completely different. The rivers in Arkansas run slow and wide, making for some wonderful float trips. Stop occasionally to jump off a rock, swim around or relax on the river beach. The backpacking here is also amazing! Trails cover the Ozark hills with caves and waterfalls. The Sandstone Castles are some of my favorite finds on these backpacking trips. The rock climbing in this area is next on my list to explore, but rumor is it's pretty outstanding as well.
Yet, what I love most about this place is hard to explain. Maybe it's just something about the South in general, or maybe it's just Arkansas, I'm not sure. There is something about the warm nights, covered with a humid kiss and a light breeze, the sway of a hammock and the song of owls, frogs and bugs humming deep into the hills. Top it off with the glittering in the distance made by the lightening bugs and I'll easily call this place home.


My hope in you reading this is, if you've never visited Arkansas, put it on your bucket list. If you're from here and don't know what I'm talking about, stop what you're doing, pinch yourself to make sure you're awake and look around. If you know exactly the places and feeling of Arkansas I'm telling you about, appreciate it and share it. I think America has misunderstood Arkansas. This state is one of America's best kept secrets.
If you just so happen to be in Northwest Arkansas, take a stop by Gearhead Outfitters, and allow the locals to tell you how to get to these secrets.