Posted on
By Gearhead Outfitters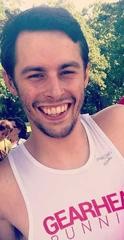 In 1997, Ted Herget opened the doors to Gearhead Outfitters in Jonesboro, Arkansas, to help people live active, fulfilling lives by providing quality outdoor-inspired products, backed by deep expertise and remarkable service. Five years later, the store moved downtown to Main Street, revitalizing the area and bringing new life to the historic location.
Meet the downtown Jonesboro store manager, Seth Freeman! Whether you're looking for the perfect running gear or the best equipment for your next adventure, Seth is one of your go-to people.
Who:
Seth Freeman, Manager
Location:
230 S Main Street
Jonesboro, AR 72401

E: How long have you worked at Gearhead Outfitters? Tell me about your role in the company?
S: I started out as a part-time sales associate in June of 2011. I began working my way up the company as Assistant Store Manager and now I'm the Manager for the downtown Jonesboro location.
E: Describe the work atmosphere.
S: We're a fun and energetic group. We always make sure each customer feels at home when they shop with us.

E: What makes your store so unique?
S: We're the first Gearhead location to be established since the move from Flint Street in 2003.
E: What does your team do for fun?
S: We're almost all involved in outdoor activities whether it's running, backpacking, camping or fishing. Most everything we provide for the customer, we also like use in some way.
E: What's one food item you would find in the break room?
S: Granola bars are always in stock!
E: How do you motivate your team?
S: I always try to find new ways to challenge them. A few ways I do that are by encouraging them to get better at their passions and educating them on new products.
E: What is your team's biggest strength?
S: Our biggest strength is connecting with each customer, no matter their outdoor experience.
E: Why should people shop at your store?
S: Because we love to meet new people and get them outfitted for any adventure. You're always better off when you leave.
You can visit Seth and his team at the Downtown Jonesboro location Monday – Saturday from 10 a.m. - 6 p.m.