Posted on
By Gearhead Outfitters contributor, Jeff Chastain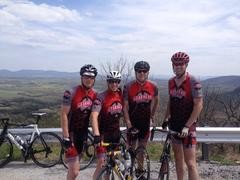 It's Bike Month and that's led me to share with you the love affair that is cycling. Like most people, cycling started for me as a child. It represented freedom, mobility and imagination. I sadly grew up. I left my bike in the shadows when I obtained my driver's license and found other forms of freedom and mobility.
(Christmas - I can't really put a date on this, but it was my first bicycle.)
Decades later, I found myself in a health crisis. Things were very bad. My family physician gave me a stern warning about the next year in my life. That was 2008. He forecasted my 2009 to be the year that we began to regulate my blood sugar and blood pressure with medication. To say I was obese was an understatement. But, for the first time in my life, I actually wanted to do something about it. I had read enough to dispel the notion that my genes were predisposed to produce my current condition.
In March of 2008, I walked into Gearhead Outfitters (before the Cycle House occupied a separate space), and handed Ted Herget my credit card. "Make me better," was all I could say. I walked out that afternoon with a fitness bike (flat handlebars) and all the basic necessities one requires to go for their first ride. I left out and went seventeen miles. That doesn't sound like much, but I could barely walk from the parking lot to my office the next morning.
In a few months, I had logged 700 miles on this bike. It was graduation time. I traded the fitness bike in for my first road bike and found out how much easier it was to ride. I could go faster and further. As the weather warmed up, I quite literally started melting away. Changes in my diet, coupled with my newfound cycling addiction, were really making a difference.
(Me rocking the Specialized Fatboy on a gravel road south of Jonesboro last summer.)
Then I set my sights on the milestones and mile markers all beginner cyclists have. The first time to 'clip in' to my pedals, climbing the insurmountable hill on Strawfloor Road and later on, my first 50, 62 and 100 mile rides.
(From left, Brandon Siegel, myself, Jeff Herren and Brett Burris at Tour de Hills in 2014)
Tens of thousands of miles and 80 pounds later, this is now my lifestyle. Physical fitness, through cycling, running and a host of other activities, has improved my overall picture of health and gives me an outlet that also improves the rest of my life. May might be Bike Month, but cycling is a year-round activity that allows those who commit to reap incredible rewards.