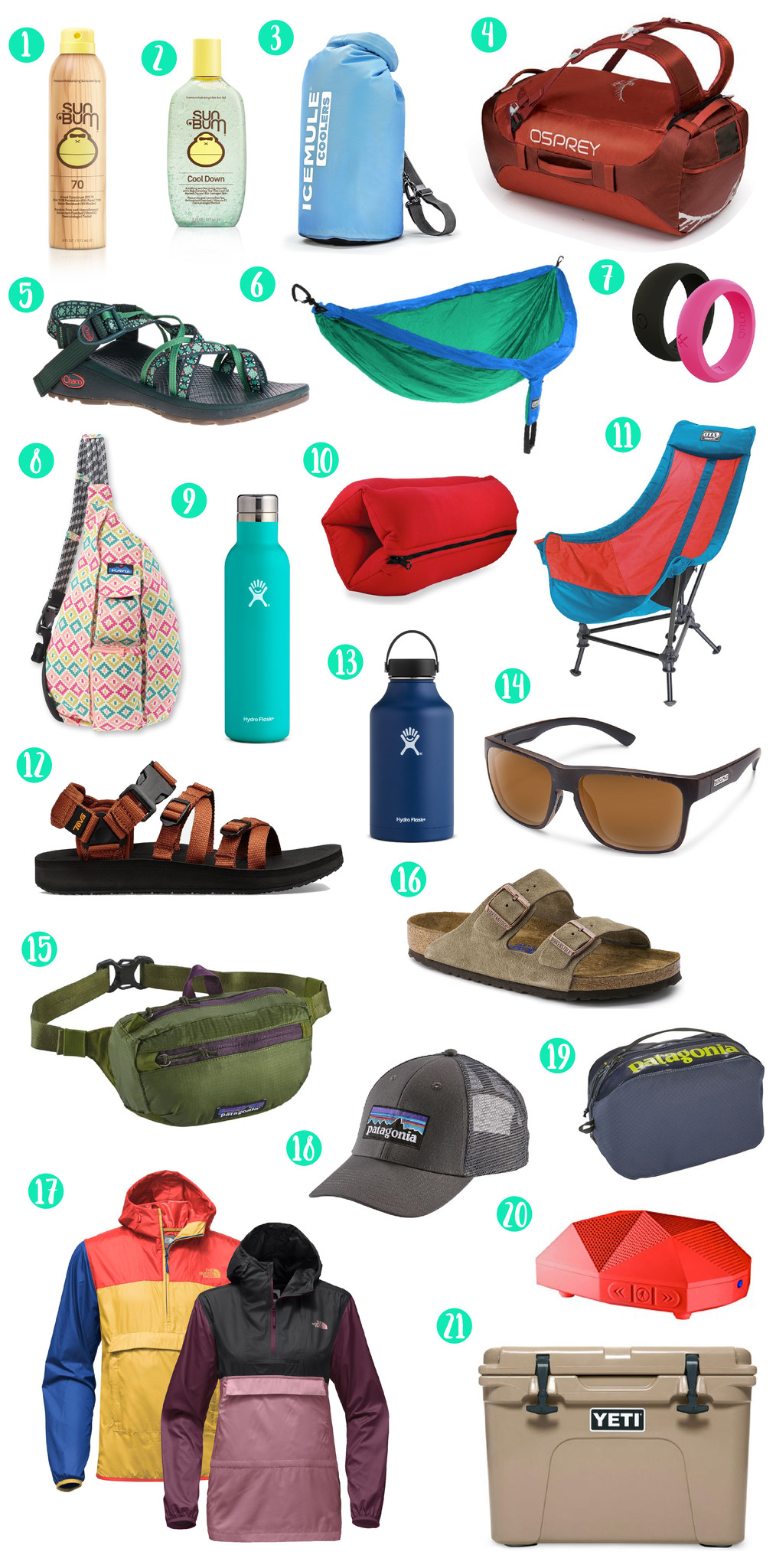 1. Sun Bum Original Sunscreen Spray — 6 oz, 70 SPF: $15.99
Protect your skin with this easy to use, spray on sunscreen. 
2. Sun Bum Cool Down Gel — 8 oz: $9.99
Ease the burn and cool down your skin. 
3. IceMule Classic Cooler — Small, ICEMULE Blue: $49.95
Your next beach companion—portable, 10-liter capacity, waterproof, and compact. 
4. Osprey Transporter 65 — Ruffian Red: $140.00
Fill it with your gear and carry it as a backpack or a duffel.
5. Women's Chaco Z/Cloud X2 Remix — Creed Pine: $110.00
Strap on a pair of Chacos for a stroll around town, hike in the woods, or a day on the lake. 
6. ENO DoubleNest Hammock — Royal/Emerald: $69.95 (Straps sold separately.) 
Your all-access pass to relaxation.
7. Qalo Outdoors Silicone Ring — Men's Black, Women's Pink: $19.99
Safe for all of your Spring Break adventures. 
8. Kavu Rope Bag – Spring Montage: $50.00 
Enough compartments to hold all your travel necessities.
*Staff Favorite: "Kavu bags are so great that my daughter took mine and still hasn't given it back." –Amy M. 
9. Hydro Flask Insulated Wine Bottle — Mint: $44.95
Keeps an entire wine bottle at the perfect temperature.
10. Yogibo ZippaRoll — Red: $25.00
Give your back and neck the support it needs during your travels.
11. ENO Lounger DL Chair — Aqua/Red: $124.95
The feel of being in a hammock but on the ground.
12. Men's Teva Alp Premier — Caramel: $80.00 
Off-road expeditions to urban walkabouts, the Alp Premier answers the call of adventure with a fine balance of style and function.
13. Hydro Flask 64 oz. Wide Mouth Bottle — Cobalt: $59.95
Keep the beach free of cans and pour your favorite drink into a Hydro Flask bottle. 
*Staff Favorite: "Hydro Flasks are the way to my heart. They keep my water cold even when I forget to drink from it for hours." –Ashley S.
14. Suncloud Rambler Sunglasses — Blackened Tortoise: $49.99
Filter out the glare and boost color definition with a pair of Suncloud sunglasses.
15. Patagonia Lightweight Mini Hip Pack — Sprouted Green: $29.00
Get the weight off your shoulders and opt for a hip pack to hold all of your belongings. 
16. Birkenstock Arizona Soft Footbed Suede Leather — Taupe: $135.00
 A comfort legend and a fashion staple. 
*Staff Favorite: "The most comfortable shoe of all time in my opinion. Molds to your foot shape and promotes overall foot health. Great for everyday wear." –Justin T.
17. The North Face Fanorak — Men's Olivenite Yellow Multi, Women's Foxglove Lavender Multi: $79.00
The ultimate travel necessity—a lightweight, wind and rain resistant pullover that folds into a fanny pack.
18. Patagonia P-6 Logo LoPro Trucker Hat — Forge Grey: $29.00
A classic and iconic way to keep the sun off of your face.
19. Patagonia Black Hole Cube — Medium, Dolomite Blue: $39.00
Keeps your small items together, instead of all of it falling to the bottom of your bag.
20. Outdoor Tech Turtle Shell 3.0 — Red: $99.95
Small but packed with a lot of power—long-lasting battery, waterproof, wireless.
*Staff Favorite: "Very versatile. I use mine every day—in the shower, working in the garage, and even on a 3-day kayak trip." –Heath G.
21. Yeti Tundra 35 — Tan: $299.99
Unmatched ice retention. 
*Staff Favorite: "Great to take to the lake. Keeps my drinks cold all day." –Addison H.