Posted on
By Gearhead Outfitters owners, Ted & Amanda Herget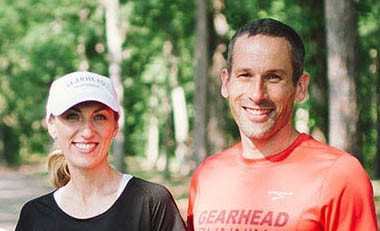 In any race, 5K to Ultra-marathon distance, start drinking at the first water station. It is key to start early, even before you feel thirsty. It is a good idea to alternate water and Gatorade. You don't need much and you don't have to stop, just grab a cup, squeeze slightly so it doesn't spill all over you, and take a small sip. Just a swish is plenty. Personally, I like to walk a few steps while drinking my water, but that is optional.
In a longer race, eat about 100 calories an hour. A gel pack such as GU has 100 calories and is easy to digest. Other options are sport jelly beans and sport chews. Anything above marathon distance will require real food such as peanut butter sandwiches as well.
The night before an event Ted and I like to eat early, no later than 7pm. I have included a couple of recipes that we like to eat before race day.
Watch the weather. Prepare accordingly. Limit your caffeine the day before race day, one cup is best and try to cut it off by noon. Limit your fiber the day before the race.
Healthy(er) Carbo Loading:
Pesto Pasta:
Boil pasta as directed. Preferably white (not wheat) pasta or gluten free pasta. (whole wheat has too much fiber before a run; boil pasta in chicken or vegetable broth or salted water.
Drain pasta and put back in pot
Add ½ cup of plain Greek yogurt
Add ½ cup Pesto
Salt/Pepper to taste
Stir until mixed. Serve plain or with chicken breast. Top with parmesan cheese.
Loaded Baked Potato:
Microwave or Bake Potato
Butter or Olive Oil to taste
Salt/Pepper to taste
Add meat (ham, chicken, or bacon)
Add sprinkle of cheddar cheese (optional)
Day Before Race Meal Plan:
Hydrate, hydrate, hydrate. 6-8 ounces of water or electrolyte drink every 1 ½ hours throughout the day.
Breakfast - Bagel or Toast with Peanut Butter or Cream Cheese, or French Toast with Maple Syrup, Coffee, Tea, 8oz. Orange Juice or Sports drink
Snack - Energy bar, bagel, or baked potato, 8 oz. water or sports drink
Lunch - Grilled chicken or turkey sandwich, fruit or cup of soup, 8 oz. water or sports drink
Snack - Energy bar, bagel or toast, 8 oz. water
Dinner - Pasta or Loaded baked potato, 8 oz. water
Snack - Energy bar, 8 oz. water
This meal plan example only includes 48 oz. of fluids so you will want to sip on more throughout the day to at least get in 64 oz. of fluid. The foods listed are for example, don't change your diet too much right before a race but remember to stay away from too much fiber, fats, and salt.
Today's tips by Ted:
Day before:
French toast either for breakfast or lunch!!!
Be prepared! Lay out everything the night before! You don't want to pack in a panic in the morning.
Race Day:
— Wake up at least 2 hours before race, drink 8-10 oz water
— Eat a small breakfast with coffee or tea, Toast with peanut butter or energy bar, cup of coffee or tea, 4 oz. water
— Sip on sports drink or water throughout the morning.
— Mile 1 should ALWAYS be your SLOWEST mile!!! This is a challenge but a must!
— Drink at every aid station starting with the first one.
Race day bag:
Race number, pins
Socks, Shoes
Race day clothes (St. Jude - Capris or Tights, short sleeve base layer, long sleeve outer layer, light weight packable jacket for rain, hat, possible ear cover if windy, gloves):
Dry clothes for after the race
Body Glide
Band aids
Hat
Sunglasses
Sunscreen if sunny
Light jacket for rain
Phone
Ear buds
Chapstick
Gu- I use 1 GU every hour
Money