Posted on
By Gearhead Outfitters Contributor- Ashlyn Cornell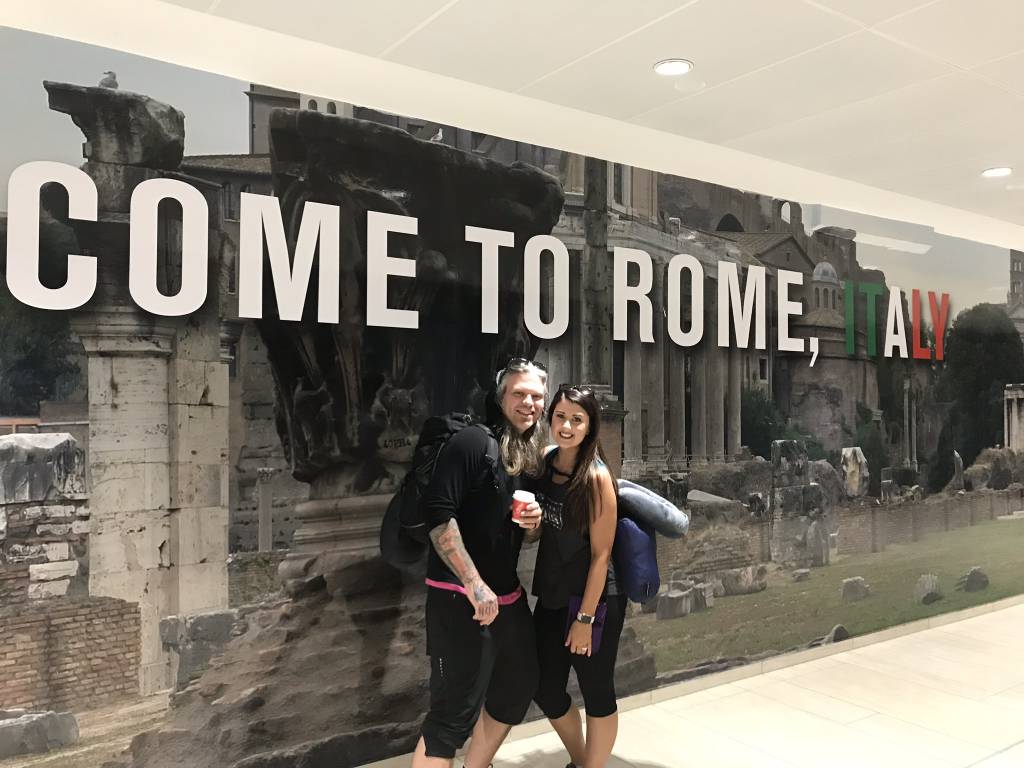 Our trip to Italy was my first time overseas and I learned so much about traveling abroad. Being the planner that I am, prior to our trip I talked to so many friends and spent hours scrolling through Pinterest for all of the travel tips and tricks! I received so much great insight that really helped make this trip a success. So here I am– paying it forward to the next world travelers.
First and foremost, I will say comfortable clothing and footwear are a must! We basically lived in FreeFly Apparel on our trip. If you know me at all, I have probably told you about FreeFly. Their apparel is made of an antimicrobial bamboo material that's anti-itch, anti-odor, and the fabric provides UV protection- making it the perfect travel wardrobe!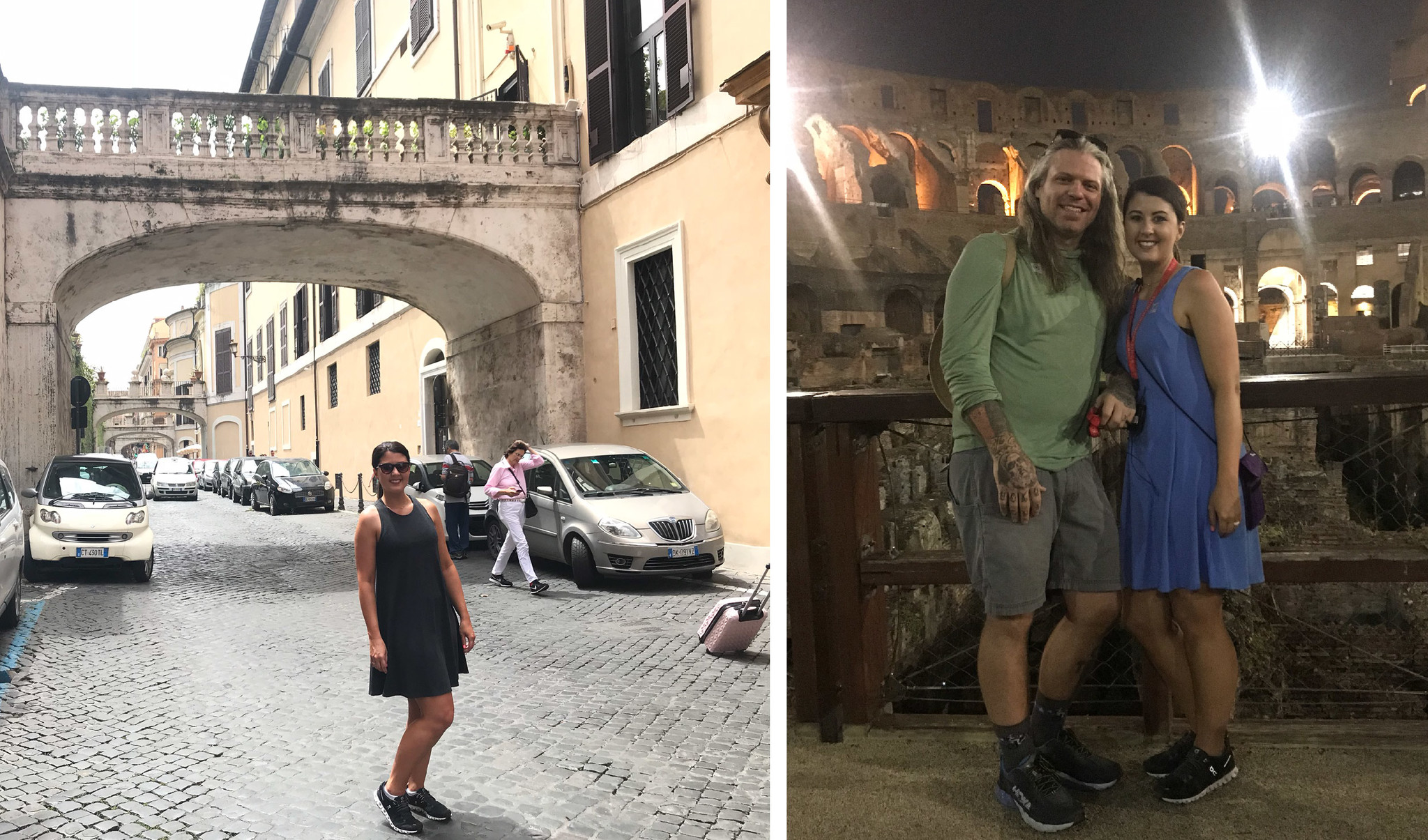 I love the Bamboo Flex Dress so much I had to get it in two colors! The Bamboo Lightweight Hoody is Bobby's go-to. (I'm not as afraid of the sun!) These photos were taken during our night tour of the Colosseum and walking the streets of Rome.
Comfortable walking shoes that also go with anything are another necessity! I wore my On Cloud shoes almost everyday and they look cute with a dress or shorts! Bobby opted for his Hoka One One's. Pro Tip: avoid cotton socks to prevent blisters. My favorite socks are Feetures– moisture-wicking socks with compression and a seamless toe.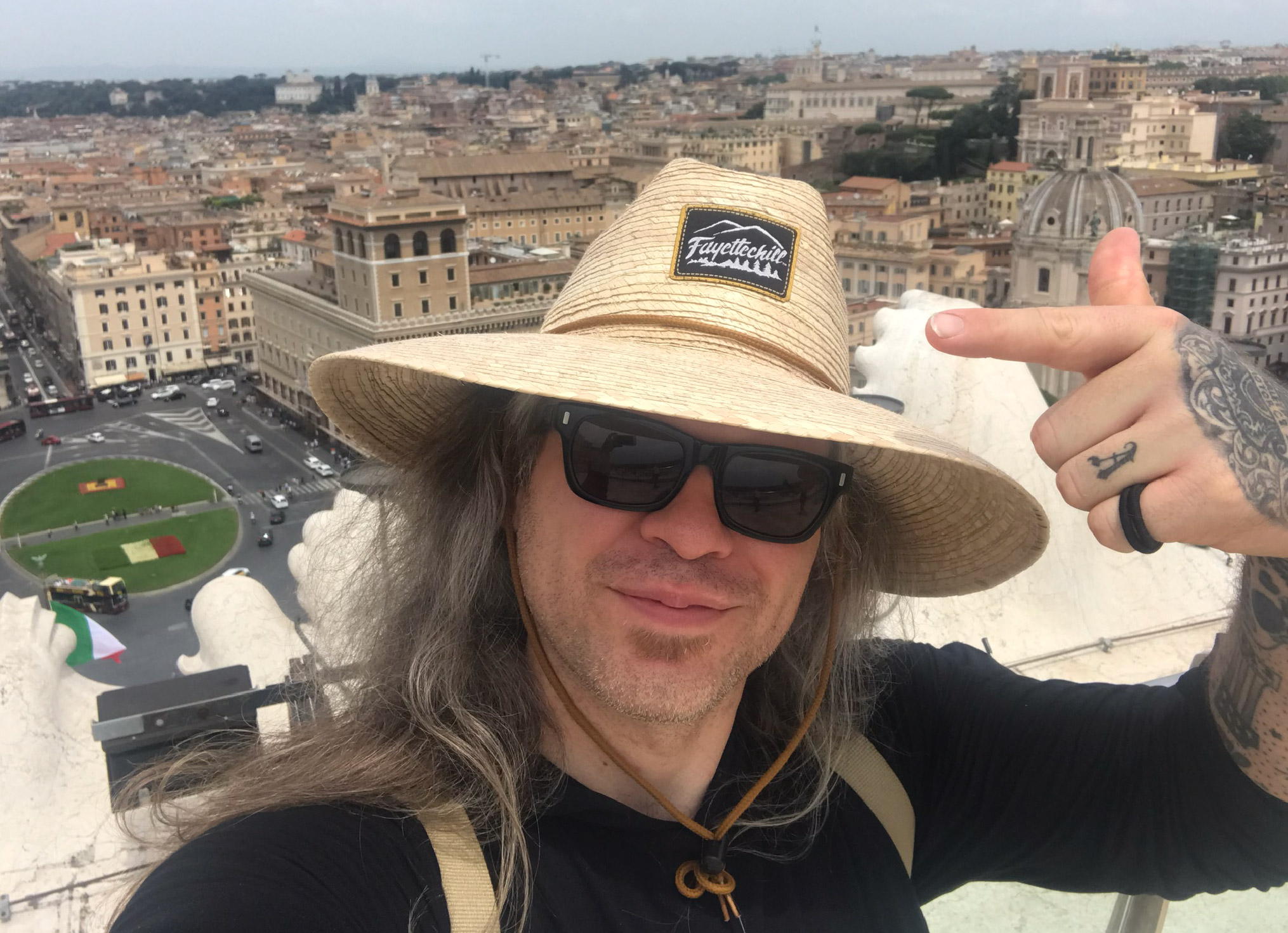 This photo was taken at the top of the Victor Emmanuel Monument in Rome.
Our trip was the very start of summer in Italy and it was HOT– sun protection was a must. Bobby doesn't go anywhere without his "vacation hat". This Fayettechill hat was his saving grace when it came to avoiding a severe sunburn!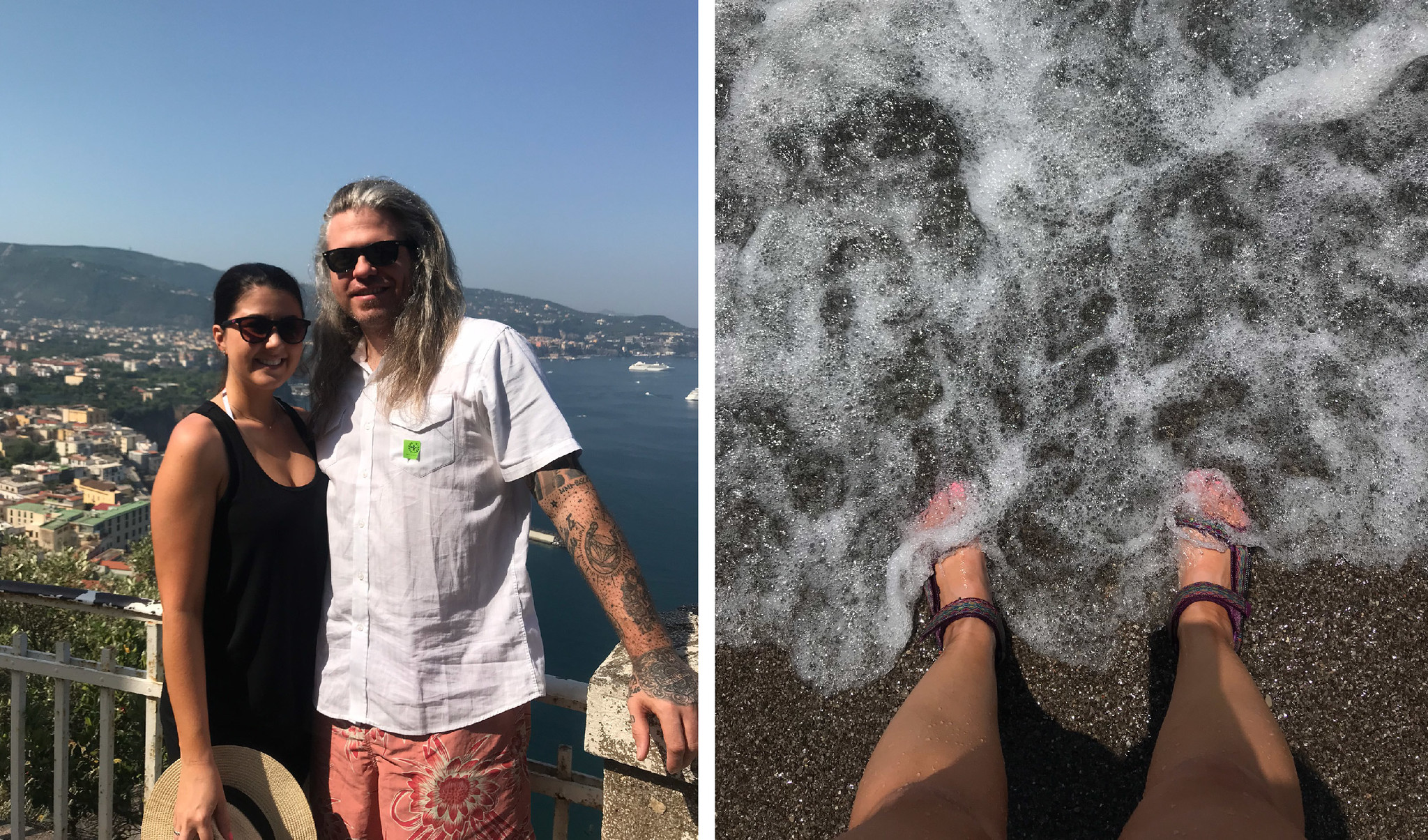 Stopped to take a photo on our way to the boat tour of the Amalfi Coast. I'm wearing my favorite FreeFly Racerback tank and Bobby is wearing his Patagonia Baggies (swim trunks) that also look great for exploring the town. My Teva sandals were super light to carry in my backpack for swimming.
We tried to cram as much history and exploration of the country into this trip as possible. One of our favorite places was a day trip to the Amalfi Coast. We took a train to Naples from Rome then a bus to Positano. We had the most delicious pizza with a beautiful view of the Tyrrhenian Sea. After our swim, we got on a boat that took us down the coast with breathtaking views. I definitely recommend this place if you ever go to Italy!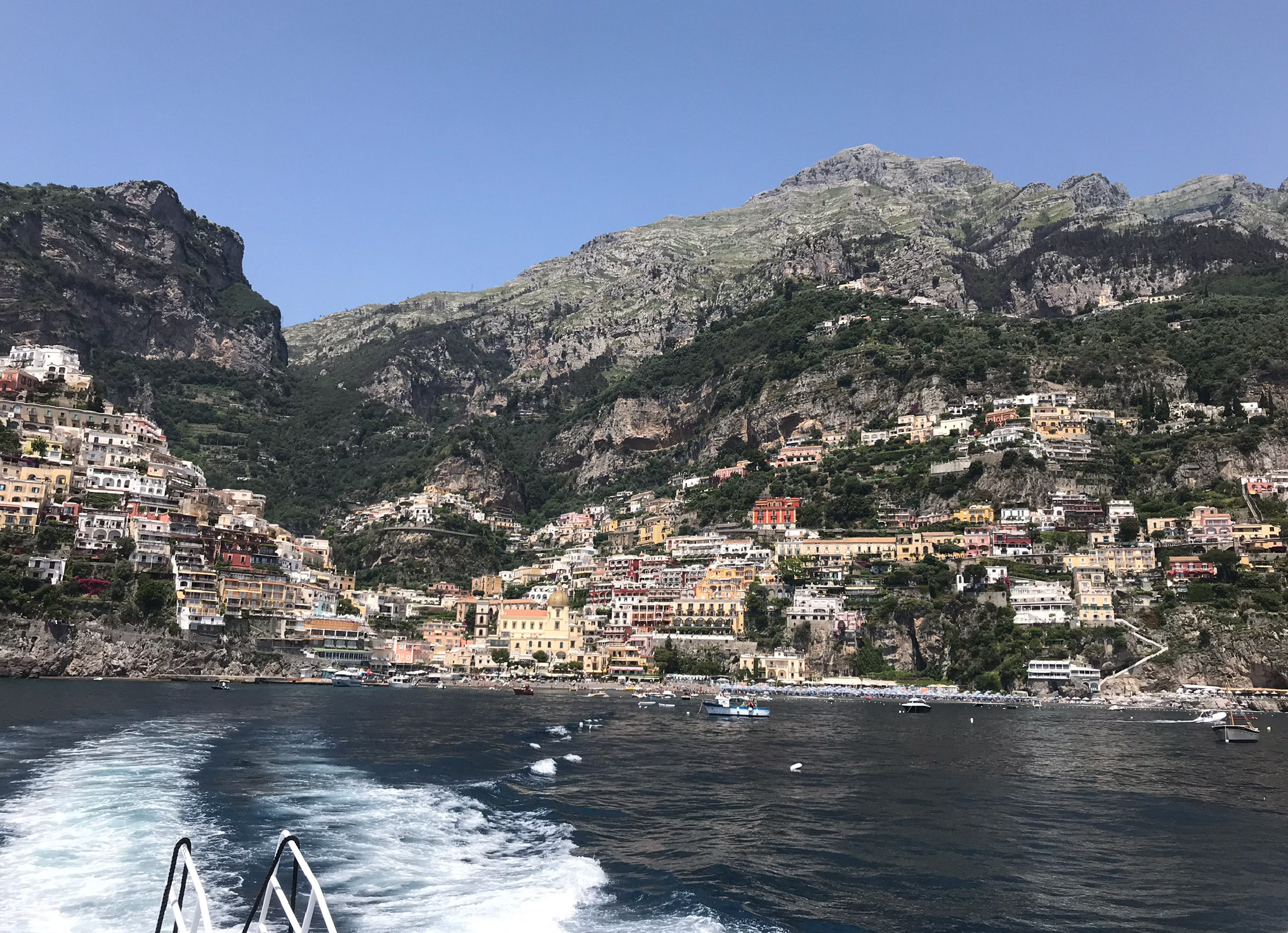 Our view from the boat of the swimming area. The water felt amazing!
We spent a LOT of time walking so it was really important to stay hydrated and we had to stop for the occasional rest break.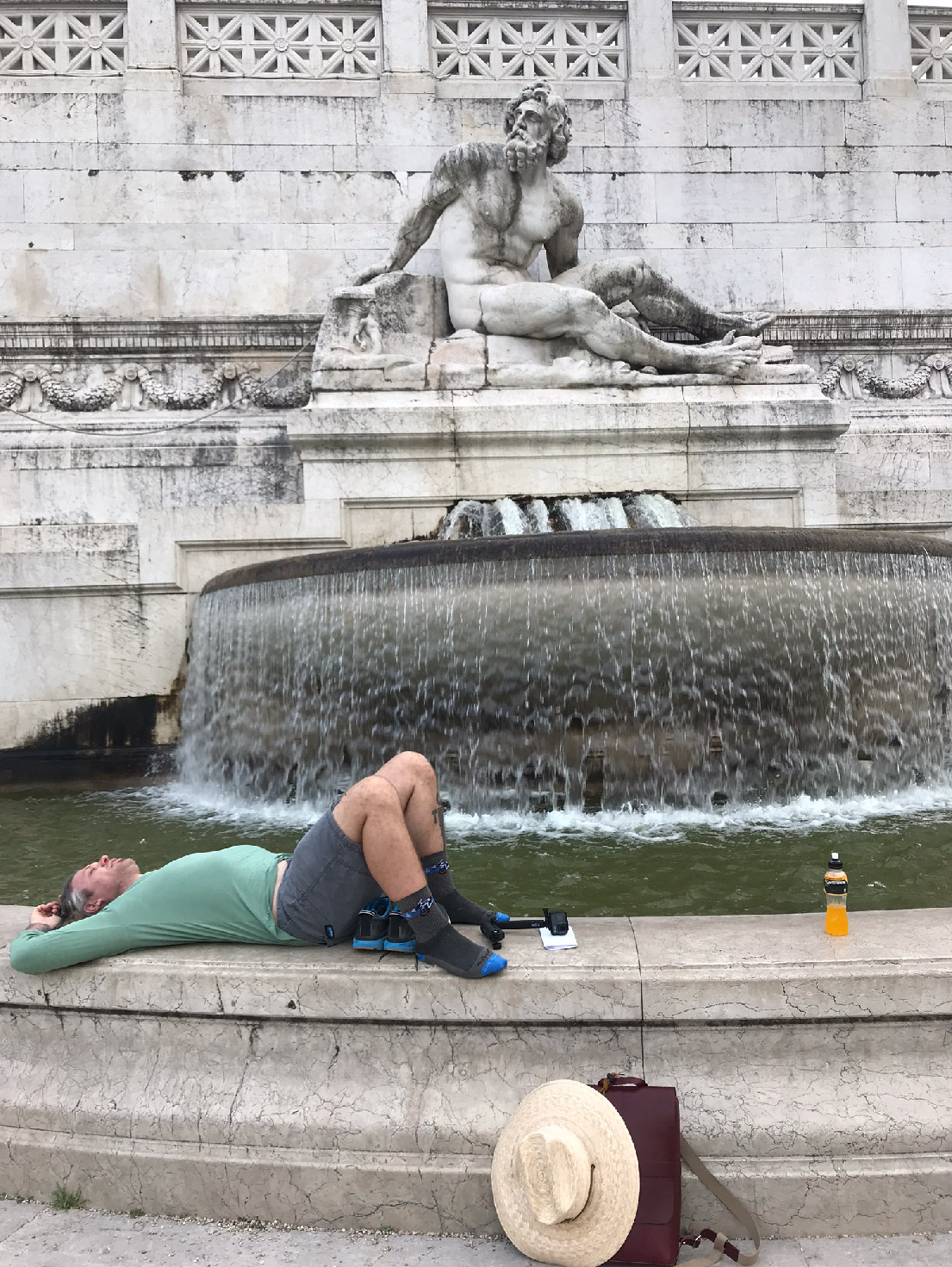 Any time we visit a new city, we have to track down the local bike shops. Bobby jumped into the work station of Florence by Bike to snap a quick pic. Bikes in Rome would be a necessity if we lived there, there's no way I could drive in that traffic!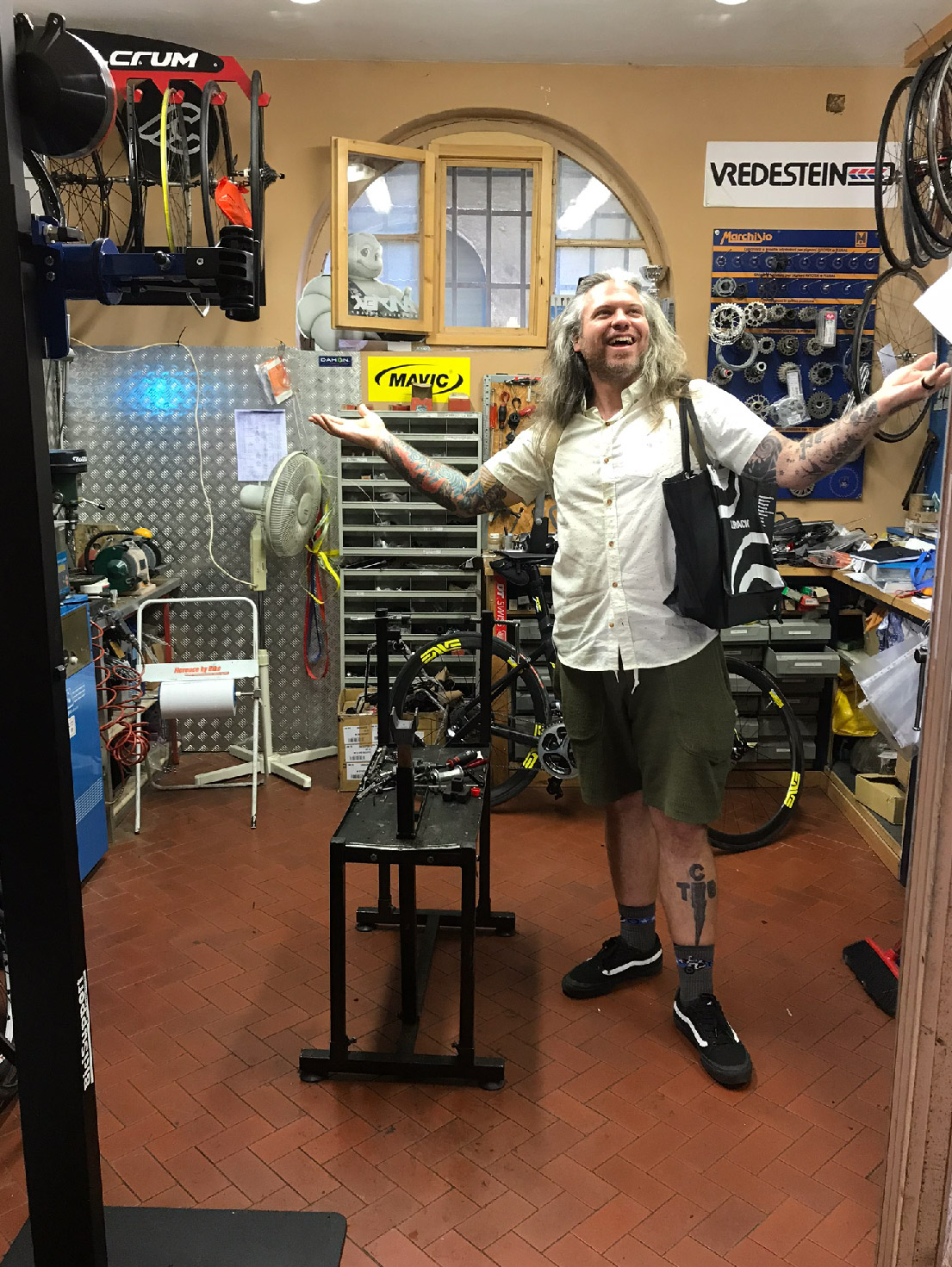 In addition to the walking, there were also a LOT of stairs to climb. Over 400 in fact, to the top of the Duomo in Florence. Although I didn't appreciate the small, confined staircase you have to climb to the top (beware if you're claustrophobic), I did appreciate the view!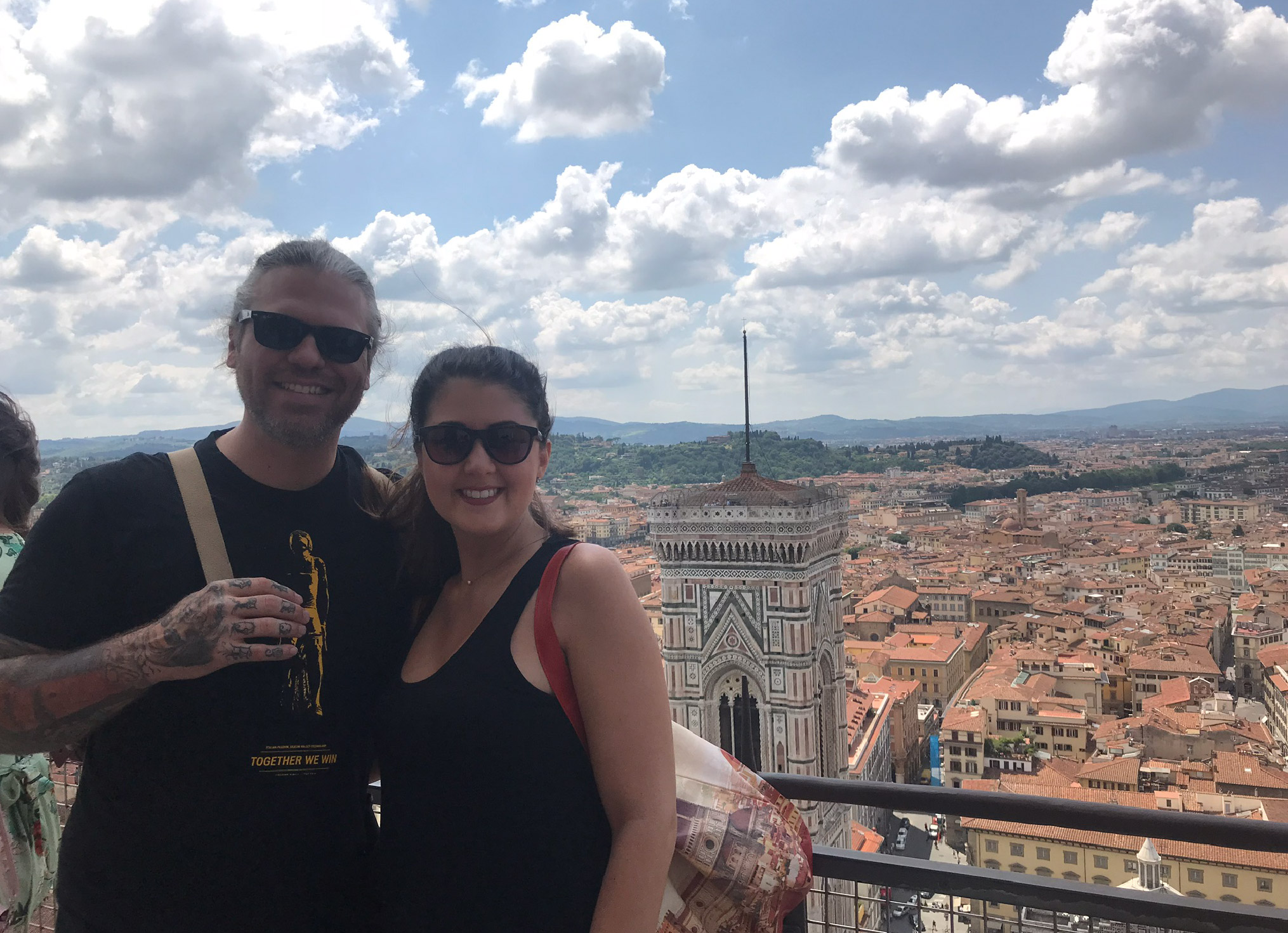 At the top of the Duomo in Florence.
Flying overseas doesn't have to be daunting. Just be sure to wear stretchy, loose clothing and bring an extra layer to keep warm. My FreeFly cropped pants and tank were perfect for relaxing on the flight and Bobby was able to stretch out in his running pants by The North Face.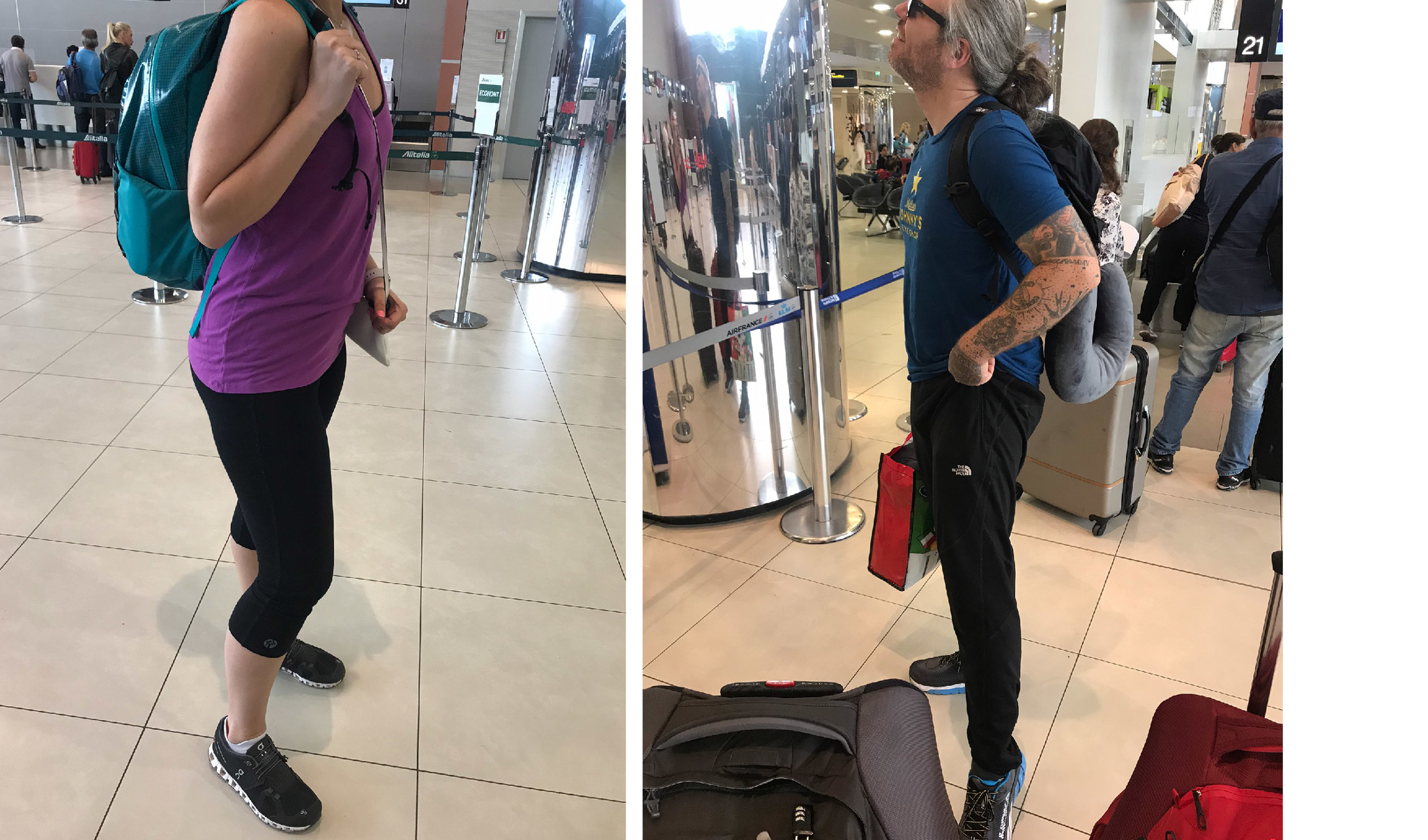 Last but not least, be sure to take reliable luggage! Our Osprey suitcases fit everything we needed for 11 days. I definitely recommend using packing cubes for your clothing! It made packing SO much easier, especially traveling to multiple destinations. My Black Hole Patagonia backpack is my favorite carry on bag– it's super lightweight and holds everything I need for the plane ride (and the color is super cute!)
I also need to give a shout out to our GoPro Hero 6. We captured so many memories with the GoPro that we'll be able to share with our family and friends and look back on in the years to come. I recommend purchasing the extra battery + charger. It was super easy to just swap the batteries out while we were on the go. Now we just have to find time to go through 10,000 photos!
We had so much fun exploring, taking in the history, and appreciating the Italian culture. I will never forget all of the places we saw and the people we met. We are so thankful for this time together and to Gearhead for offering products that make traveling so much easier and more comfortable!
Find your nearest Gearhead location to gear up for your next adventure!